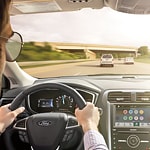 When you're picking out a mid-size sedan, what qualities do you look for? Here at Fred Grande Ford, we see a lot of vehicles that we're impressed with, either due to their drivability, price range, or the features that they offer. When it comes to mid-size sedans, we've definitely been wowed by the Ford Fusion.
The Fusion comes packing some serious performance features. Features like intelligent all-wheel drive make handling your Fusion much, much easier. Handling and turning is a much easier experience with all-wheel drive already, so the Fusion's inclusion of tech to aid in this process makes everything that much simpler. The Fusion also features a variety of engine options to choose from as well, so that you can fine-tune your pick to output as much power as you want.
To experience the Ford Fusion in action, come by Fred Grande Ford at any time to set yourself up with a test drive.