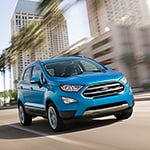 If you are looking for a new SUV, then you should buy the 2020 Ford EcoSport. It is designed to help enhance your driving experience. It is a fuel-efficient vehicle that can get up to 29 MPG, and it has a variety of capability features you will enjoy.
Not only is this vehicle fuel-efficient, but it also has technology that can help you save even more fuel. With auto start-stop technology, your engine will automatically stop when your vehicle comes to a complete stop and will start again after you take your foot off the brake pedal.
The EcoSport also has hill-start assist. This feature will help you switch from brake to gas while moving your vehicle forward on a hill. The anti-lock brakes can help your vehicle stay in place while you shift you slowly accelerate.
To learn more about the capability features of the Ford EcoSport, visit our dealership for a test drive.